By Joshua Saikin
Hanukah
Get along together
In a nice snowy weather.
Put up your chin
With a big wide grin.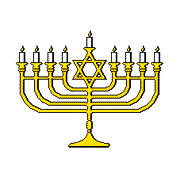 There's plenty to eat
Of rice, eggs, and lamb meat.
Use a tall handle
To light all 8 candles.
Make so much noise
When you see all your toys.
Laugh and play games
And hopefully they're not lame.
Tell stories that last
All the way to the past.
Say good night and good bye
But not with a sigh.
Because next Hanukah
You will see, Uncle, Aunt, Grandpa, and Grandma.